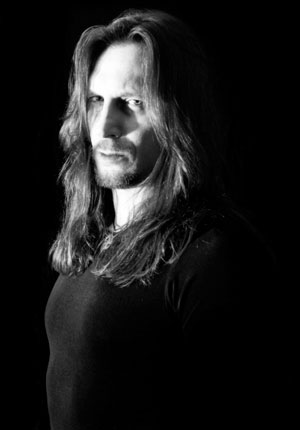 Joseph Vargo acquired his dark passion at an early age. "As a youth, I tended to gravitate toward horror movies, monster models and anything that could possibly warp my young and impressionable mind," he recalls. "My sister and I used to rush home from school to watch the old Dark Shadows TV series. I was constantly drawing, and the subject matter was usually some sort of monstrous creature."
Like many artists coming of age in the 1970s and 1980s, his early stylistic development was heavily influenced by legendary fantasy icon Frank Frazetta. According to Vargo, "His work is seething with energy and has a dark, primal quality to it. He is a master at capturing the action just before a fateful encounter, right when your adrenaline begins to rush." Echoes of Frazetta can be discerned in many of Vargo's fantasy works.
Vargo quickly forged his own style, one in which the raw, brutish power of Frazetta became increasingly overtaken by subtler, moody evocations of horror and enchantment. Gaunt vampires lurking in shadowy catacombs are a favorite subject of Vargo's, as are beautiful and dangerous seductresses, who may either be in league with the undead or members of it. The sensuality and understated dread apparent in Bram Stoker's Dracula and the works of Edgar Allan Poe emanate like a Victorian mist from many of Vargo's paintings and illustrations.
His artistic style developed and matured solely through hard work and discipline. Though he briefly attended art school in his hometown of Cleveland, Ohio, Vargo found the experience disheartening, even detrimental to his own goals, and he left after one semester. Of his instructors, he observes, "Their ideas of fine art were completely the opposite of what mine were. I expected to hone my skills and learn to paint like the Masters. Instead, the curriculum consisted of nurturing undisciplined expressions of creativity, such as splattering paint against a wall. It was a disillusioning experience, and I did very little artwork in the following five years. Eventually, though, I returned to art and began training myself and honing my skills."
The necessity of self-reliance soon became a recurrent theme in his professional life. The mainstream art community, historically hostile and pessimistic toward fantasy art, offered him no support or encouragement, and even the more commercially driven fantasy and science fiction publishers and distributors were unwilling to promote a relatively unknown talent. Since going through normal channels proved to be a dead end, Vargo quickly learned that if any opportunities to promote his work were to come his way, he would have to make them himself. To that end, in 1991, he established his own company, Monolith Graphics, to sell art prints, calendars and t-shirts of his own design. In 1992, graphic designer Christine Filipak came on board, and her computer expertise became a valuable complement to Vargo's talents in acrylics, oils and inks. Monolith soon developed a reputation for striking, high-quality duotone reproductions of Vargo's gothic fantasy works. "We started printing a line of posters and calendars in a blue and black duotone," Vargo recalls, "mainly because it was more economical to print with two colors than with four, but it also captured the gothic atmosphere of the subject matter. The look really caught on and blue and black have since become our trademark colors. Many people are surprised to see that a lot of my original paintings are actually rendered in full color."
In 1997, Vargo opened his own gothic art gallery, The Realm: Showcase of the Fantastic, which featured his works as well as those of many other popular fantasy artists. In addition to Monolith's array of prints, calendars, t-shirts and other products, Vargo extended his talents to other venues. From 1998 to 1999, he produced, financed, directed and performed on the gothic-themed albums, Born of the Night and Realm of Shadows, drastically changing the sound and style of music previously used by the Halloween industry.
In 2000, he published and illustrated Tales From The Dark Tower, an atmospheric collection of thirteen short stories inspired by many of his gothic paintings. The anthology, which delves into the mysteries surrounding a medieval tower inhabited by cursed vampires and other lost souls, featured many stories written by Vargo himself as well as by several emerging writers. "The primary intent of the project was to give some talented but relatively unknown writers a chance to be published," he explains. The book garnered worldwide acclaim, and spawned two sequels, Beyond The Dark Tower in 2011, and Return To The Dark Tower in 2015, as well as The Dark Tower soundtrack.
This interest in promoting the talents of others—a courtesy that was, ironically, not afforded to Vargo himself during his early days as a professional—lay behind his decision in 2001 to create and publish Dark Realms, a quarterly magazine showcasing the works of up-and-coming gothic artists, bands and writers. The magazine became an instant success, capturing the attention of a wide audience with eye-catching layouts, thought-provoking articles and arresting covers painted by Vargo. Each issue has quickly become a highly sought-after collector's item soon after its release. Also high on the collector's list is the first edition art book, Born of the Night: The Gothic Fantasy Artwork of Joseph Vargo, which features over 100 paintings and illustrations in glossy full-color, plus commentary from the artist.
In 2002, Vargo unveiled one of his most ambitious projects to date: The Gothic Tarot. Comprised of 78 images either adapted from his existing works or created specifically for the deck, this darkly elegant deck of fortune-telling cards is a veritable miniature gallery of his most popular works and a lavish testament to Vargo's gothic realm. In 2007, Vargo co-wrote The Gothic Tarot Compendium, a detailed guide to understanding and using his best-selling Gothic Tarot deck.

Vargo performed in various rock bands in the 80s and produced several acclaimed cds for the Halloween industry in the late 90s. He formed Nox Arcana in 2003 with William Piotrowski, and began composing his unique brand of dark and haunting concept soundtracks. In addition to composing and performing the music, Joseph also writes all of the narratives and lyrics and performs vocals for each cd. His work also includes conceptualizing each theme album, writing the back-stories, and creating the cover and interior artwork for the cd booklets. He also devises the perplexing puzzles hidden inside many of the cd packages. Vargo's artistic vision makes every Nox Arcana album more than a great collection of music, creating a completely immersive atmosphere that is a treat for all the senses. With 26 albums comprised of over 470 original compositions, Nox Arcana is the foremost provider of specialty theme music for everthing from romantic, dark fantasy, horror and Halloween, to their gothic Christmas and Yuletide melodies which reached #8 on Billboard Magazine's Music Charts for Best Holiday Album.
In 2018, Monolith released the dark adventure video game The Cabinets Of Doctor Arcana. Based on Vargo's Theater of Illusion mythos, the game pits the player against the sinister spirit of a mysterious magician who traps them inside his gothic mansion and dares them to solve a series of perplexing puzzles in order to find a way out. The story, art and puzzles were created by Vargo, who also supplied the music and voiceovers throughout the game. In 2019 Vargo teamed with Christine Filipak to write Madame Endora's Book of Fortunes, a compendium to Madame Endora's Fortune Cards. The book also contains several chapters on ancient mysticism and oracles throughout the ages.